In cooperation with the Dutch sneakershop Front Runner, I put the nicest sneaker trends of 2013 (SS'13) for you at a glance! I'm so stoked, because the trends are really cool! I'm a mega sneaker lover and have, partly thanks to a part-time job in a sneaker store (2 years ago) a, quite a big sneaker collection! And during the spring fashion weeks, we were fortunate to see a lot of sneakers. Designers sent their models down the catwalk in the most beautiful dresses with a pair of sporty sneakers!
Sneaker Trends 2013
There are three striking trends when it comes to fashionable sneakers. High sneakers, eye-catching prints and the classic sneaker is back with a vengeance! Sneakers are super convenient, you can travel, shop, longboard with them and even wear underneath dresses.
The high sneaker
Within the sneaker trend there are two styles: The sneakers that pop above the ankle and sneakers with high soles. This trend can be combined with the prints trend, like Allstars with the leopard print. Also the platform shoes as sneaker is allowed. Seen ath young stars as Carly Rae Jepsen. High sneakers are also combined with the bermuda shorts. These straight shorts provide a real sporty look. Perfect for a day out shopping or on holiday, because in the Netherlands it is unfortunately still too cold for shorts.
splashy prints
Bright colors and awesome prints: anything can happen this season. From fluorescent pink (favourite!,) to animal prints. Vans sneakers with leopard print shoes with two contrasting colors. Adidas also comes with striking colors. This spring and summer we will also see a lot of customized sneakers. So you can still get to work with paint and studs to give an original look to your favorite sports shoes go diy girls!
The classic sneaker
This spring the classic sneaker has made ​​a comeback. The real classics are All Stars and Nike, but we're going to have more sporty classics like the stylish sneakers from New Balance. And as each season All Stars comes with many new and eye-catching prints. In Hollywood many stars combine striking prints with neat dresses. This creates a playful beach look perfect you can wear to parties.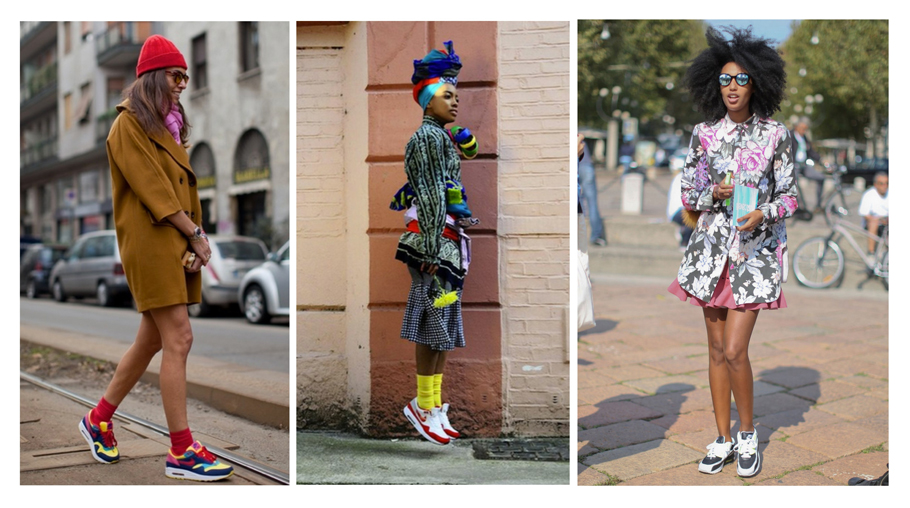 My favorites? All stars are always my favorite sneaker, which go with me on a journey in the city, work, school etc. I would really like to score a New Balance pair!
What's (not) your sneaker style?